Triotech to Demonstrate New Standing Theater Attraction and Announce Major European Theme Park Project at IAAPA Expo Europe


Media-Based Attractions Specialist Triotech to Showcase New Stand-Up Theater Attraction and Announce Major European Theme Park Project at This Year's IAAPA Expo Europe





Lauren Heath Jones | Planet Attractions | August 19, 2022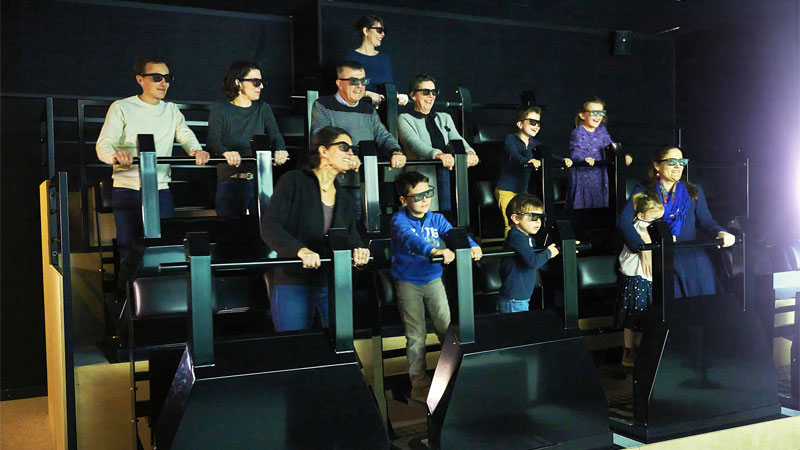 The new standing theater has been described as a flying theater and dynamic simulator. Credit: Triotech
At this year's IAAPA Expo Europe, Triotech will use its exhibit space to showcase a new stand-up theater attraction.

Located at booth 1317, the new attraction has been described as a dynamic simulator and flying theatre. Guests stand on platforms in pairs, this position enhancing the movement of the ride, while special effects, such as scent, breath, leg ticklers, water and wind, immerse passengers in the action on screen.
Aimed at smaller venues such as FECs and amusement parks, the new attraction occupies a smaller footprint, while standing platforms offer higher ride capacity.
Triotech will also use this year's show to announce a major project with one of Europe's leading theme parks. A press conference scheduled for September 13 will see the company present several of its latest projects, including the opening of a dual-ride attraction for OCT Group in China.
Finally, the company will showcase dynamic 3D miniature versions of several of its products, including Dark Coasters, Flying Theaters, VR Attractions, 4D Theaters and Interactive Dark Rides.
"We are delighted to meet our customers, prospects, partners and friends in London," said Yannick Gemme, Vice President of Sales and Marketing at Triotech.
"The European market is strategic for Triotech and we are working closely with our French division CL Corp to develop exciting attractions aimed at this segment."
---


Taking place at Excel London, in the heart of the UK capital, this year's IAAPA Expo Europe will feature an extensive trade show with over 500 exhibitors, including Planet Attractions.
At the show, the Planet Attractions Media Zone will be located at Booth 234. The show will also feature several networking opportunities and a comprehensive educational program, including a panel moderated by Planet Attractions' editor, Tom Anstey, titled 'How to Make Friends and Influence People – Working with Influencers'. The session takes place on September 15 from 10:30 a.m. to 11:30 a.m.
To make an appointment with Planet Attractions at IAAPA Expo Europe or for exhibitors to book an interview slot in the media area, please email our editor Paul Thorman, who can be reached at [email protected].