Livn expands Google's 'things to do' initiatives as tour and attraction operator listings open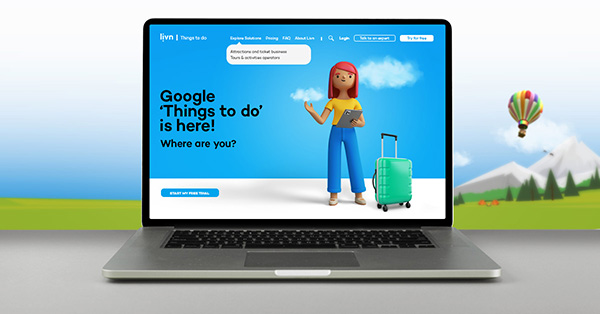 After joining the early phases of Google's "Things to do" (GTTD) program as a partner, Livn is going global to reach as many tour operators and attractions as possible.
Livn has already onboarded hundreds of global operators to the program, with attractions operators reporting that thousands of users have been directed to their website through the "Things to Do" platform, with up to 15% of those users making commission-free purchases.
As registrations open for tour operators, Livn is responding in force by launching a dedicated website, Facebook page and expanding the team to meet demand. The objective is to inform, educate and support the growing number of operators under their wing.
Livn's approach is consultative, which requires direct engagement with every participant in the ecosystem, including tourism boards, DMOs, advertising agencies, trade events and tour operators. By adding a call center to support growing teams in Australia, the UK, the US and Canada, the goal is simple: to help tourism businesses understand the 'Things to Do' program and get maximum visibility on Google.
The new dedicated website will target two main audiences. The first are attractions and ticket offices that offer single or multiple locations like zoos, aquariums, and stadiums. The second is the latest addition to the "Things to Do" program, which are tour and activity operators offering products such as wine tastings, sightseeing tours or guided tours.
Livn Managing Director Mark Rizzuto explains how Google's "things to do" has changed the landscape for small operators, noting "previously, searches involving small travel companies would take users to places like Booking.com and Expedia Once the booking is completed, these small commercial operators would then lose 30% of the price of their products via the payment of commissions to a large OTA.
"By expanding our offering, we're giving operators resources that enable a much better model. Thanks to 'Things to do', they will have much more control over their distribution and pricing strategy.
As Rizzuto mentions, thanks to the Livn partnership, tour operators will not have to pay commission, transaction fees or cost per click on sales. Instead, they can choose a monthly publishing plan that suits their business, with the first month free as part of an ongoing offer.
In addition to increasing revenue over marginal cost, the Things to Do program will also deliver value by building a competitive presence on Google despite the size of a carrier. Increased visibility to advertise products alongside relevant points of interest with direct booking links to their website means improving profit margins and regaining brand control.
Livn's commitment to helping businesses recover and build resilience is evident in the resources and attention she gives to Google's "Things to do" project. The hope is that operators will face a level playing field in the future with more control over their activities.
Tour operators who join the GTTD program will get their first month free for a limited time offer. For more information, check out Livn's new Google "Things to Do" website: go.livn.world
Image: Livn's new Google 'Things to do' website
Related Articles
February 14, 2022 — Google launches Things To Do feature
October 28, 2021 – Google's new 'Things to do' feature offers huge entertainment potential
October 9, 2021 – Google begins to feature ECO certification in hosting listings
October 7, 2021 – Google's phasing out of its 'Book with Google' feature offers huge potential for tourism
April 23, 2021 – Australian businesses urged to adopt diverse marketing strategies as Google and Facebook laws create uncertainty
April 2, 2020 – Google Arts and Culture offers virtual tours of museums and galleries during coronavirus closures
November 2, 2019 – Google acquires Fitbit in US$2.1 billion deal
July 17, 2019 – Google suspends Viagogo from global paid search results
December 21, 2018 – Ticketek presents the Google Pay Payments API
December 5, 2018 – Tickets.com launches new Google Pay mobile ticketing integration
October 12, 2018 – Accesso will introduce the functionality of booking tickets via Google Maps
May 3, 2018 – Google recognizes Australasian Leisure Management as a global news source
February 8, 2018 – Google will require transparency from ticket resale sites
April 3, 2017 – Google launches new booking service for fitness classes
July 19, 2016 – RedBalloon launches real-time reservations with Livn GDS
April 11, 2012 – Google opens global art galleries to millions
---
Support our industry news service
We hope you enjoy the news we post, so while you're here can we ask for your support?
As an independent publisher, we need reader support for our industry intelligence gathering, so ask – if you're not already – to support us by subscribing to the print version. Australasian Leisure Management magazine and/or our online news.
Click here to see our subscription options.