Armageddon Expo set to take over famous haunted attraction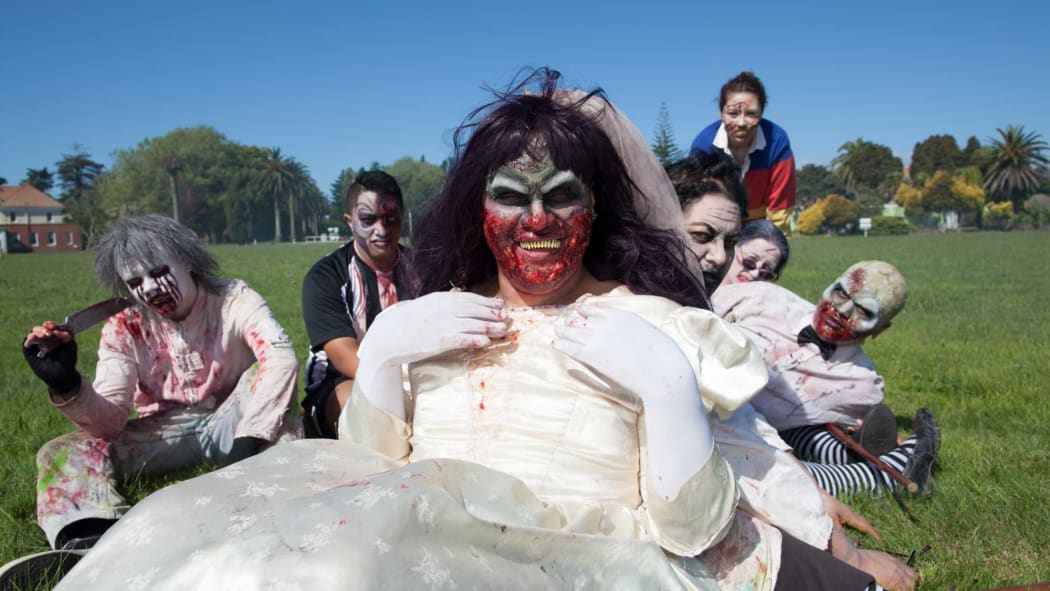 After 17 years of screams and scares, New Zealand's number one haunted attraction has changed hands.
Based in the former Nurses' House of the former Kingseat Psychiatric Hospital in South Auckland, Spookers was sold to the ever-expanding Armageddon Expo.
Since it opened to the public in 2005, steady streams of thrill seekers have passed through its spooky doors in search of a scare.
Outgoing CEO Julia Tukiri launched Spookers alongside her parents, Beth and Andy Watson, and partner Jamal Tukiri.
She said the idea for the haunted attraction was born over 25 years ago.
"My parents had a farm on State Highway 1 at Marton in the Rangitikei District."
"Mum had studied agritourism and was trying to think of something they could do on the family farm, so we started New Zealand's first amazing corn maze."
"It was really popular. We started doing mazes at night, my dad used to scare the staff and that's how CornEvil was born, which is our haunted horror maze we used to do in the past."
After living in the UK, Tukiri returned to Aotearoa and ran a haunted maze attraction at Te Kauwhata.
"We surpassed it in three years, so we knew the demand was there for Haunted Horror Entertainment."
Like any business, Spookers has evolved over time and as demand has increased so has the level of alarms delivered to its customers.
"We started with the haunted house, now we have four attractions open including Woods, Disturbia and Fog."
Tukiri's father, Andy Watson, is now mayor of Rangitikei District, so he has less time for the business, as she wants to pursue the next adventure.
"I think the memories that will forever be etched in my memory are our incredible, incredible, unique and diverse staff."
At the time of writing, Spookers had 120 spooks on their books, all of which should be kept when Armageddon Expo takes over.
Armageddon Expo founder Bill Geradts said he was thrilled to be involved, and Spookers fans could rest assured the high-quality scares would continue under new management.
"The Spookers as they are now are spectacular," Geradts said.
"You go through it and you think, oh, it's been a while, but it's terrifying and amazing and just heartbreaking fun."
"What we're looking to do is just build on that rather than take away from it."
Geradts said there are plans underway to add new events.
"We have a haunted night tour we're going to do, Dungeons and Dragons events, basically using the venue a bit more."
"We're also looking to add themed months like a Dracula month and then a Necromancer month."
"We're going to bring in new elements and shake things up a bit beyond what's already there."
Geradt started the Comic Con-style Armageddon Expo 27 years ago and regularly hosts exhibits around the country.
He said he's no stranger to moving with the times.
"We had to adapt (over the years).
"You have to make sure you keep up to date with how things are going and what people are interested in.
"We're touring next weekend, and we were lucky enough to have a Stranger Things actor on board, and the response is just overwhelming right now.
"It's all about timing and responding, keeping an option on what happens and how you do things."
For Julia Tukiri, it was the ideal solution.
"I think entertainment in New Zealand is booming right now.
"People are ready to go out and have fun, and experience new things.
"I think Armageddon are the best possible buyers we could have. The synergies between our brands are perfect, and they get it, they get the entertainment industry.
"We couldn't have hoped for better.
As for her plans, Tukiri said the change had her full attention, but one thing was for sure, she was proud of what her whānau had managed to create at Spookers.
"Yeah I guess we're a destination you can use. Spookers is a landmark for places near here and people don't know where it is but if you say spookers they go 'oh okay yeah I got it', that's pretty cool."